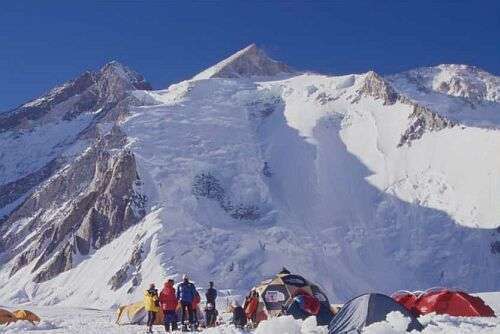 Baltoro, G-II & Nanga Parbat Trek
Nanga Parbat base camp trek is a grand adventure in the Himalayan region of Pakistan. More recently, it has become a very popular destination for mountaineering enthusiasts and trekkers from all over the world.
Baltoro trek is the most popular trekking holiday for foreign trekkers visiting Pakistan. This adventure is most commonly known as "K2 Base Camp Trek" as this walk on Baltoro glacier leads us to the base camp of K2. Including our classic K2 base camp trek.
Gasherbrum II (8035m) are located in the Karakoram Range in Pakistan at the border of Pak - China. This Range also has four 8000m peak include K2 (8611m), Borad Peak and Gasherbrum I-II, there a more than 60 peaks above 7000m and even more 6000m peaks.
In modern mountaineering Gasherbrum II is the safest and easiest peak to climb in Karakoram 8000m peaks. This peak offer ideal choice for suitable experience in order to attempt first 8000m.
Gasherbrum II world thirteenth tallest mountain and third in Pakistan. An Austrian Expedition led by Firtz Moravec mad the first summit through south face normal rout in 1956 on July 8.

HIGHLIGHTS:

• Base Camps of K2 (8,611) & Broad Peak (8,051m)
• Base Camp of Nanga Parbat (8,126m)
• Night stay at K2 Base Camp
• Trek at Nanga Parbat Base Camp
• Gondogoro La Pass (5,585m). View four 8,000m peaks (K2, Gasherbrum I & II, Broad
Peak) and other peaks (Gasherbrum 4, Laila, Gondogoro Peak etc) from one point.
• Circular/Circuit trek to scenic Hushe Valley
• Concordia – Throne Room of the Mountain Gods
• Trek along Vigne and Gondogoro glaciers from Concordia after trek to Godwin Austin
glacier via Baltoro Glacier (5th longest and world's largest outside polar region).
• Visit Gilkey Memorial
• Views of peaks between 5,000m to 8,000m including Gasherbrum 3 and 4,
Masherbrum, Mustagh Tower, Bakhordas Peak, Mitre Peak, Crystal Peak, Marbel Peak,
Biale
Peak, Lobsang Spire, Trango Towers, Uli Biaho, Cathedral Peak, Urdukas Peak etc.
• More views of peaks between 5,000m to 8,000m including Laila Peak, Chogolisa etc.
• Views of Glaciers (e.g. Biafo, Vigne, Liligo, Dunge, Muztagh, Biango, Yermanendu,
Mandu and more) , glacial lakes, waterfalls and streams
• Visit Fairy Meadows
• Sightseeing in Skardu and Islamabad

Why Book Now

• Early Bird Discount:
• Limited Space in Peak Months:
• Limited Flight Seats:
• Pay Balance after arrival in Pakistan:
• Pay Minimum Deposit:

Licensed professional guide (government requirement)
Airport transfer on first and last day in Islamabad
All domestic road transfers
All hotel accommodation (twin sharing rooms)
All trekking accommodation (twin sharing dome tents)
All hotel meals (breakfast, lunch, and dinner)
All trekking meals (breakfast, lunch, and dinner)
All camping site fees
Trekking logistics (tents, non-personal equipment, and tools)
Support staff (cook, assistant(s), etc)
Porters for trekking equipment, kitchen (supplies, tools, equipment, crockery, gas), and personal luggage (12.5kg)
Travel Insurance (recommendations only)
Visa to Pakistan (supporting documents will be offered)
International airfare
Personal equipments (warm clothes, hiking boots etc)
Tips for guides, porters, staff etc
Miscellaneous (drinks, phone calls, laundry, souvenir etc)
Itinerary:
| | | |
| --- | --- | --- |
|  No of Days |  From |  To |
|  1st Day |  your destination |  islamabad |
|  2nd Day |  islamabad |  chillas |
|  3rd Day |  chillas |  fairy meadow |
|  4th Day |  fairy |  nanga parbat base camp/back |
|  5th Day |  fairy |  skardu |
|  6th Day |  skardu |  askoli |
|  7th Day |  Askoli |  paju |
|  8th Day |  paju |  rest day |
|  9th Day |  paju |  khobusay |
|  10th Day |  khobusay |  Goro 1 |
|  11th Day |  Goro 1 |  concordia |
|  12th Day |  concordia |  k2 base camp/back/rest |
|  13th Day |  concordia |  G2 base camp |
|  14th Day |  G2 base camp |  concordia |
|  15th Day |  concordia |  khobursay |
|  16th Day |  khobursay |  mungrong dera |
|  17th Day |  mungrong dera |  Skardu |
|  18th Day |  skardu |  chillas |
|  19th Day |  chillas |  islamabad |
|  20th Day |  islamabad |  extra day |
|  21st Day |  islamabad |  see off |