Trango Towers
Great Trango Tower is one of the most spectacular granite towers in the world; a dream come true for ardent rock climbers. We climb a very straight forward and technically moderate route up the north face from our base camp on the Dunge Glacier.
Trango Tower is a 6,286-meter high mountain, which is located north of Baltoro Glacier in the Karakoram Mountains range of Pakistan. Those mountains lovers who have a their little setting up camp spot of Urdukas might have seen the Trango Tower massif across the strong Baltoro Glacier en route to the raised goliaths of K-2, the Gasherbrums, or Broad Peak. The east essence of Great Trango Tower and Nameless Tower are among the significant upstanding countenances of the world. It are wasn't opened until 1975 moving in the wake of being shut for a long time and in 1976 Nameless Tower was move interestingly by major areas of strength for a group on their subsequent attempt. Visiting Trango Towers will be a unique experience. When you explore this destination, you will come to know various things about that place, people, language, food habits, lifestyle and various other things.
In 1977 the peak of Great Trango Tower's was first move by Galen Rowell, John Roskelly, Kim Schmitz, and Dennis Hennek by the most straightforward course ups the western side. Extraordinary Trango is to some degree a mountain with three fundamental pinnacles, all over 6000 meters. In 1984, the 5000 foot Norwegian Buttress was the main course settled on the enormous East Face, which prompted the principal climb of the East Summit (6231 meters).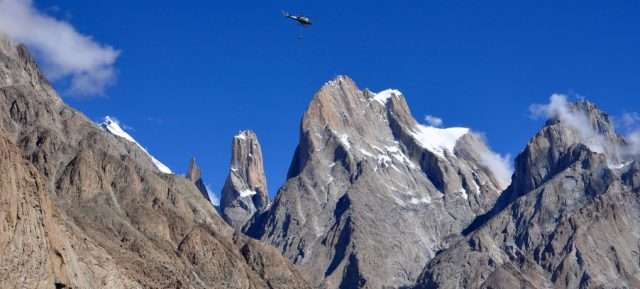 Permit For Climbing:
A permit for climbing in Pakistan is required from the Pakistan Ministry of Tourism. There ought to be 4 people for the pemit, who all should be enrolled at season of applying for the grant, however these names can be changed later. Changes to the license should be finished one or two months ealier to arrival in Pakistan. The application needs to involve such points of interest like accurate dates of appearance and flight, individuals including indicated pioneer, put away individuals, general size, specifics of movement to and from the pinnacle, data on the pinnacle wanted, and subtleties of the pioneer and undertaking individuals. A visa is likewise required. Acquire the visa after permit application is supported.
Trango Group have the following peaks:
1- Trango Ri (1) 6452-M
2- Nameless Tower 6239-M
3- Trango Ri (II)6515-M
4- Kruksum (S)6650-M
5- Kruksum (E) 6300-M
6- Great Trango (III) 6231-M
7- Trano Ri (IV) 6300-M
8- Great Trango (I) 6286-M
9- Kruksum (N)6600-M
10- M Munk 6150-M
11- Trano Ri (III) 6300-M
12- Great Trango (II) 6237
Climbing History:
1976 British Anthoine, Boysen, Howells and Brown
1987 Yugoslav Cankar, Knez and Srot.
1987 Swiss-French Piola, Delale, Schaffers and Fouquet (Parapente descent)
1988 Swiss-Polish Kurtyka and Loretan.
1988 German (et al) Yugoslav route
1988 German Gullich, Munchenbach and Albert (Yugoslav route 1st free ascent)
1989 Spanish Gallego, Clavel, Rose and Seiguer.
1989 German (Gullich, Albert and Stiegler
1990 American/French Lowe and Destivelle  Yugoslav route (Destivelle first woman)
1990 Japanese Minamiura First solo (and new route)
1992 Child and Wilford
1995 Ogden, Benegas, Starr and Brand
1995 Izco, Zabalza and Aquerreta
1995 Skinner, Model, Lilygren and Bechtel
1997 Hollinger, Barker, Jarrett and Rzeczycki
Best Months For Trango Towers:
May, June, July, August, and September.
Range:
Days:
Contact Us For More Information About Expedition in Pakistan.