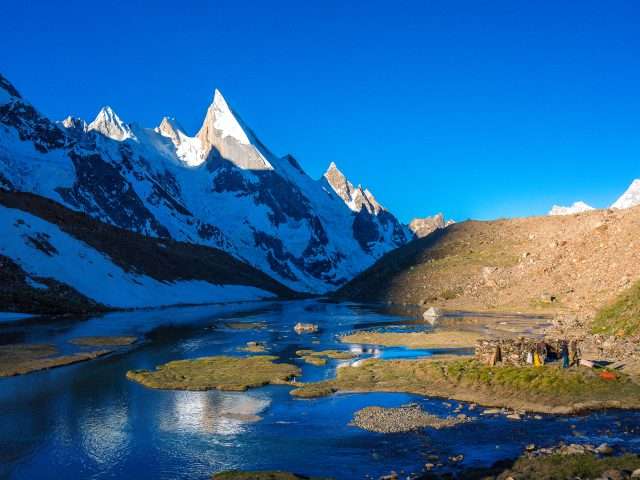 Laila Peak Base Camp Trek
Laila peak Base camp trek provides you one of the beautiful short-duration Trek in the Karakoram Range mountain valley. The surrounding at Laila peak Base camp are breathtaking, especially for photography enthusiasts it is heaven. We are the local company form Hushe valley offering this beautiful trek to Laila Peak Basecamp, for those trekkers who are seeking a short-time best trekking experience in the Heart of Karakoram Mountains. During K2 & Gondogoro la pass trek the trekkers set their eyes on the Beautiful Laila Peak from the top of Gondogoro la.
It is the first time providing the Laila peak basecamp trek from Hushe side. You can enjoy the beautiful landscape of Hushe valley, Saicho camp, Khuspang camp, Gondogoro glacier, Masherbrum peak, and many other amazing peaks of the Karakoram ranges.
Laila peak is a mountain in Hushe Valley near Gondogoro Glacier in the Karakoram Range. Laila peak also known as the Queen of Karakoram range mountains.  Located in the Hushe Valley of Baltistan, Pakistan, it has an elevation of 6,096 meters. Laila Peak has a distinctive spear-like shape and its northwest face has a slope of 45 degrees in more than 1500 vertical meters.
Itinerary
Days

Program Details 

Day 1
Arrival at Islamabad International airport and transferred to comfortable centrally located hotel in Islamabad. Overnight stay in Hotel.
Day 2
Islamabad – Chilas:  Drive 10-11 hrs on famous Karakorum Highway to Chilas. On the way we will stop for photography, toilet break and lunch. Overnight stay in hotel.
Day 3
Chilas – Skardu: After Breakfast drive 9-10 hrs to Skardu,  stop at "junction Point of Three Mountain Ranges" Himalaya, Karakorum & Hindukush and view point of Killer mountain "Nanga Parbat". Then we follow the Indus river and will enjoy the beautiful small villages on both side of Indus river. Overnight at Hotel in Skardu.
Day 4
Skardu – Hushe. After 35 km from Skardu we shall leave the mighty Indus river behind and then follow the Shyoke river. On the way to Khaplu, we can see famous desert (Sarfaranga Cold Desert), Junction point of Indus and Shyoke river, Machulo village and the beautiful view of Mashabrum Peak K-1 and the majestic view of Haldi cones.  Overnight stay in Hotel.
Day 5
Hushe – Saicho:  Hushe is the starting point of our Trek Laila Peak basecamp. We leave Hushe valley early in the morning and trek towards Saicho camp. Saicho is a green pasture of Hushe village, we can
Day 6
 Saicho – Dalchanpa: 2nd day of trekking towards Dalchanpa camp. We will leave the Saicho Camp early morning, we will camp overnight at Dalchangpa in front of Mashbrum peak. Trekking hours 4-5 hours. Camping 
Day 7
 Dalchangpa – Khuspang Camp: this day we will walk up on the glacier and trek for next 5-6 hours on the glacier till Khuspang camp and enjoy the beautiful view of Laila peak and sounding sightseeing.  
Day 8
 Rest Day: Photography, and excursion. Accommodation.
Day 9
Back to Saicho: back to Saicho via the same route and night stay in camping.
Day 10
Back to Hushe: Early morning after breakfast we trek back to Hushe village via the same route. Overnight stay in Hotel.
Day 11
Hushe – Skardu:  Early morning after breakfast we drive back to Skardu via the same route. Overnight stay in Hotel.
Day 12
Skardu – Islamabad: Fly back to Islamabad or drive to Chilas. Overnight in hotel.

Note:  in case the flight is cancelled due to bad weather or some other issue, we drive to Chilas via same route.

Day 13
Free Day in Islamabad: enjoy  the free day in Islamabad, explore Islamabad city

 Note: if our flight on day 12 cancelled we will drive Chilas to Islamabad.  Overnight stay in Hotel.

Day 14
Islamabad Airport Drop:  Transfer to Islamabad international airport for the onward flight

(End of services).
Laila Peak Base Camp Trek Highlights and main attractions
 Masherbrum peak
Laila Peak
Drifitkhar peak
Amin Brak
Haldi Cones
Hushe Valley and its lifestyle
Views of Glacier Gondogoro
glacial lakes, waterfalls, and streams
Many other peaks of above 5000 m peaks in Baltistan Valley
Balti Porter's life and culture
 Skardu Valley and sightseeing in the outskirts of Skardu
Khaplu Valley and Shyok River
Beautiful Pro-Tibetan culture and heritage of Balti people
Indus River
A scenic flight over the Himalayas and Karakorum
The Karakoram Highway in case of Flight Cancellation
Delicious food of Pakistan
Sight-seeing in Islamabad or Rawalpindi