machulo la trek is the most affordable, easiest and short scheduled trek for viewing the K2, Nanga Parbat Gasherbrum range's mountains and some other mountains of Karakorum's range. machulo la trek considered the most easiest way to view some of the most highest peaks of Himalayas and Karakoram mountains in a single glance such as K2, Broad Peak, Gasherbrum-I, Gasherbrum-II, Gasherbrum III, Gasherbrum IV, K7, K6 and Nanga Parbat. But there are excited views of Ghanche Glaciers as well as the very natural beauty of District Ghanche and this trek is suitable for national and international Trekkers, Best and short place for universities student trip. Having just a view of K-2 required three days of walking. Machulo Treks & Tours Pakistan have developed an itinerary to have the glimpse of the mighty mountain just after two days walk from the town of Machulo.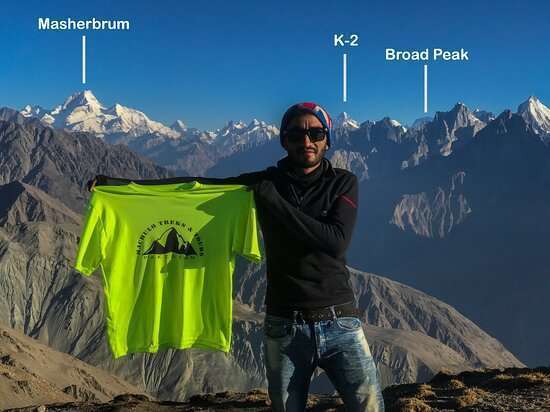 view point of :
K2 (8611m)
Broad peak (8051m)
Nanga parbet (8126m)
Gahashabrum I(8080m), Gahashabrum II(8035m)
Some other Peaks like Gasherbrum III (7,952m) Gasherbrum IV (7,925m) K7 (6,942m) K6 (7,282) Nanga Parbat (8,125m) and many other nameless peaks.
Some More Information about this Trek:
Elevation: 5000 meters
Type: Hiking Trekking| Sightseeing Level Easy |
Duration: 12 Days
Itinerary:
| | | |
| --- | --- | --- |
|  No of Days  |  From   |  To  |
|  1st Day |  your destination |  islamabad |
|  2nd Day |  islamabad |  chillas |
|  3rd Day |  chillas |  skardu |
|  4th Day |  skardu |  Machulo |
|  5th Day |  Machulo |  khari broq |
|  6th Day |  khari broq |  machulo laa/back qoli bransa |
|  7th Day |  qoli bransa |  khsonmo haltasa |
|  8th Day |  khsonmo haltasa |  khari broq |
|  9th Day |  khari broq |  machulo |
|  10th Day |  machulo |  gilgit |
|  11th Day |  gilgit |  islamabad |
|  12th Day |  islamabad |  fly back |
Average rating:
0 reviews